Max Windsor Cocoa Brown Flooring – Product Description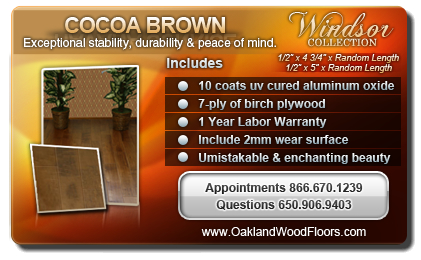 If you're looking to furnish your home with wood flooring that exudes a seamless mixture of classic and contemporary styling, then the Windsor Collection will be an ideal fit for your home.  The cocoa brown coating reflects a combination of natural beauty and unmistakable enchantment.  Bringing a warm, soothing look to your home, a cocoa brown coating can transform an ordinary room into an inviting atmosphere.


Features:

•    Protected with 10 coats of UV-cured aluminum oxide finish
•    Constructed with 7-ply of Birch plywood
•    Crafted to include a 2 mm wear surface

The Windsor Collection can deliver stability, durability, and peace of mind to your home.  If you're looking for an exceptional coating, then inquire about our cocoa brown finish.


Services:

•    We can refinish your cocoa brown floor a minimum of 2x with our dust-free sanding process.
•    We can refinish your cocoa brown floor an unlimited amount of times with our no-sanding refinishing process.